Amidst the mixed reviews that this game received, it is still going strong with its updates and a promise to fix the issues highlighted by the community. It has been a whole year since the game came out and to address that, the studio made a 1-year-anniversary bundle for the game owners with a bunch of freebies! You can grab it before the day ends today!
Crystal Dynamics recently uploaded a new content roadmap that showcases what's to come in near future so players know what to expect from it.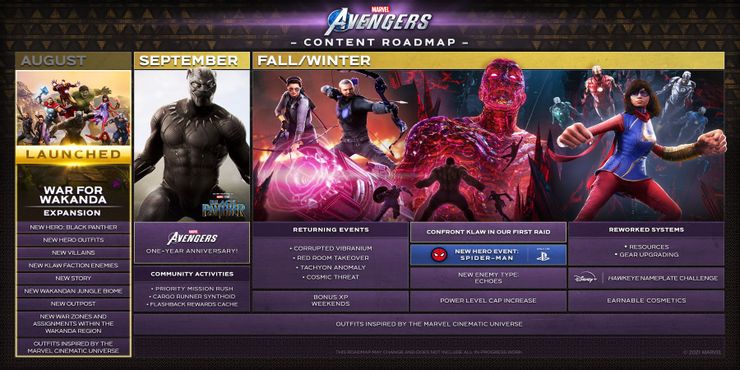 Unfortunately, they do not specify when these would be rolled out but as you can see, Spidey makes the cut! As seen on Gamerant; Other additions include community missions like Priority Minion Rush, Cargo Runner Synthoid, and Flashback Rewards Cache. Also included in September and the remaining months going forward are costumes inspired by the Marvel Cinematic Universe, with one MCU costume for Black Panther already released.
There's a new hero event that includes Spider-Man and hopefully that will bump the numbers for the current PC players up. It was performing terribly on PC and that might stand to change owing to their latest update.
Now available on all platforms, you can either wait for the updates to come out or simply grab a copy now!
As usual, have a great day and a lovely week! And don't forget – GamersOutlet.net is your one stop shop for everything videogames and software, at the cheapest possible price! 😉